Прочетете този пост на български език.
"In the next minute, a million plastic bottles will be purchased around the world. At this rate, over half a trillion plastic bottles are expected to be sold in 2020. 91% of the plastic we produce never gets recycled, and 8 million metric tons of it enters the oceans annually."

Parley For the Oceans
Sounds pretty scary, doesn't it? Well, it should be. In the last couple of years, environmental issues have been raised with a lot of public involvement, still many of us don't really realize the threat that we are causing to our planet, hence our future.
The recent events of the Amazon deforestation and other horrible news that we read about every day but not really pay attention to, should trigger a wake up call for us! The change starts from each one of us and we should do whatever we can to contribute to a better future of our planet and mankind. It might sounds drastic and make you panic but actually we should really rethink how we live. I recently read about Greta Thunberg, the 15-year old environmental activist from Sweden, that clearly stated this to political leaders from all over the world:
"I don't want you to be hopeful. I want you to panic! I want you to feel the fear I feel every day. And then I want you to act!"
Personally, what I am trying to do on a daily basis is to limit my single-use plastic consumption such as straws, plastic bags, plastic bottles, etc. I also encourage second-hand fashion choices as a way to prolong the lifecycle of clothes and accessories.
One of these habits to carry a reusable water bottle, I got from living in the Netherlands. Clean, tap water is accessible pretty much everywhere and it didn't make any sense to buy bottled water from the store. In Bulgaria, where I currently live, the situation is very similar and that's why I still use my Dopper bottle when I go to the gym or use a stainless steel tumbler at work.
Dopper bottles (with a built in cup too!) are made out of reusable, recycled plastic and come in all sorts of colours. If just one person switches to a Dopper, 5kg of plastic waste will not enter the oceans and 200 disposable bottles will not be purchased to begin with. And this is just for one year!
adidas x Parley for the Oceans
Staying on the topic of protecting the oceans, I was really inspired when I discovered more about the collaboration adidas x Parley For the Oceans! Parley is an NGO that aims at protecting the oceans from plastic waste through awareness campaigns, mass clean ups and recycling of the collected waste. The plastic is then reused for apparel purposes, as in the case of Adidas – sneakers and sports clothes. The Ocean Plastic program is led by the three pillars of the Parley A.I.R. Strategy to AVOID virgin plastic, INTERCEPT plastic waste and ultimately to REDESIGN new alternatives.
This collaboration has been going on for a couple of years now (2016) and this year (2019) the sneakers produced from recycled ocean plastic are expected to hit a new record of 11 million pairs. What is even more inspiring is that adidas have committed to ditch the use of virgin plastic in their supply chain and only use 100% recycled polyester by 2024! Slowly but gradually the brand introduced iconic sneakers such as EQT, UltraBoost, Deerupt as well as sports apparel of popular football clubs, NFL teams and Stella McCartney collections that incorporate the recycled ocean plastic threads for a more sustainable future. Here's an infographic that explains the process more generally: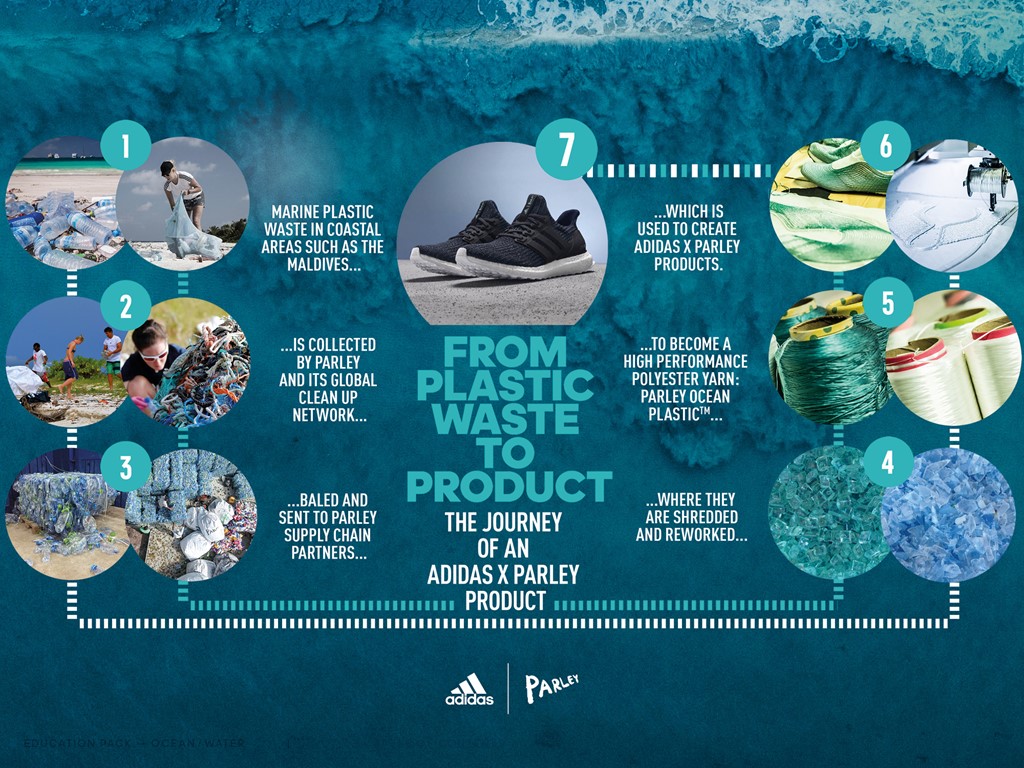 I fully support this cause and that is why I decided to share it with you! The sneakers in the photos are the adidas Asweego in white and blue, which incorporate recycled ocean plastic threads. In terms of performance and comfort, the shoe is no different from the regular Asweego adidas running shoe – comfortable sole, excellent support and durability. However, the cause that it stands for is what makes the real difference! Find out more about Parley's initiatives here.
What can you do?
The change comes from every single one of us and every little step you take has an impact on the greater good! Be more sustainable in your everyday choices such as:
use a cotton bag to carry your groceries instead of plastic/paper ones
ditch straws or use reusable metal/glass ones
take your lunch in a reusable container instead of single-use plastic
drink your tea/coffee in your own tumbler
if you live in a place where clean water is easily accessible, use a reusable water bottle
donate / recycle the clothes and shoes that you don't wear anymore
buy clothes second-hand to limit your involvement in the impact of the fast fashion industry
recycle, reuse or repurpose items
limit your meat consumption or stop all together if you can as this industry is a major contributor to global warming (animals release methane when digesting food)
shop local, seasonal produce – it's better for your body, the local farmers and the environment
*This post is in collaboration with Deichmann Bulgaria. All opinions expressed are solely mine and are not sponsored in any way.